Environmental DNA analysis
Environmental DNA studies to determine the presence/absence, abundance and distribution of macro-organisms.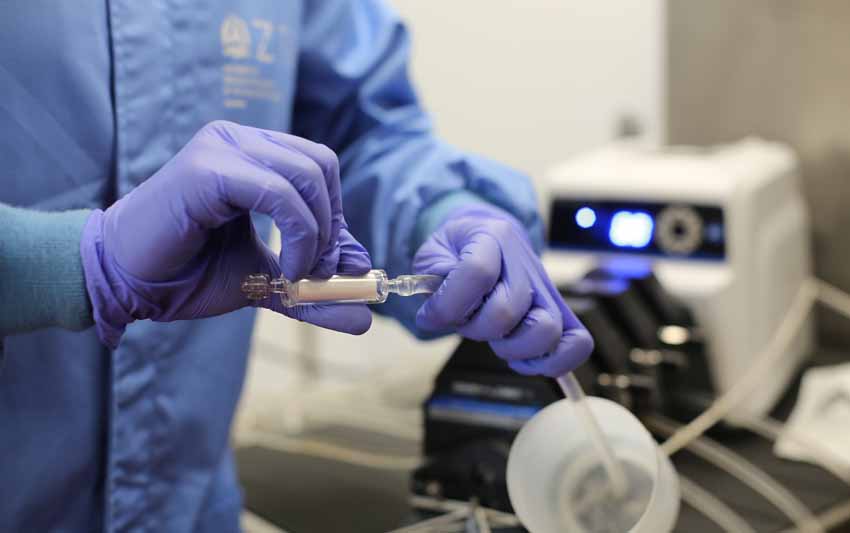 The study of environmental DNA consists of sequencing traces of DNA from large organisms found in water (cells, tissues, mucous membranes). Through this sequencing it is possible to obtain information on the organisms living in a body of water without the need to sample or see them. Thus, we can determine the abundance and distribution of fish species of commercial interest by analysing just a few litres of water.
At AZTI we work by applying environmental DNA analysis to the study of:
diadromous fish, to determine their presence in our rivers and reproduction patterns,
fish species of commercial interest, to provide an alternative method to oceanographic campaigns that is more cost-effective,
deep-sea, increasing knowledge on this inaccessible ecosystem
Advantages
The study of environmental DNA provides information on the species that inhabit a body of water without the need to sample or observe them.
The method is more sensitive than traditional methodologies and its use is especially relevant for studying elusive, rare, endangered or inaccessible species.
It is particularly useful for fisheries assessment and management; conducting biological surveys to increase basic knowledge about poorly known ecosystems (e.g. deep-sea), as well as for the implementation of directives such as the Water Framework Directive or the Marine Strategy Framework Directive.
Experience
At AZTI we have more than 10 years of experience in the application of state-of-the-art genetic methods in the study of communities of organisms.
Recently, we have contributed to the development of environmental DNA analysis in the marine environment and we are pioneers in Europe and worldwide in the application of this method for the study of commercial and deep-sea species.
We have knowledge of the whole process: from sampling, genetic analysis (laboratory, bioinformatics) to the transfer of information to management agents.
We are aware of the manager's needs and work to offer solutions tailored to them.
We participate in international working groups related to the subject and advise decision-making bodies.
Proven track record