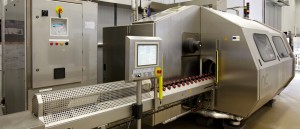 The alternative to heat pasteurisation with the best sensory properties
High Pressure Technology (HPT) enables improvement of processed foodstuff quality while maintaining safety.. This innovative technology is presented as an industrially reliable alternative to the traditional heat pasteurisation process.
High Pressure Technology not only enables improving already existing products but also new product development through the creation of new textures and functional improvements.
At AZTI-Tecnalia we identify how the process should be optimised to improve the product and meet customers' needs.
Applicable sectors
Food companies in sectors such as meat, fruit/vegetable, fish processing, juices, dairy products, ready meals, delicatessen, 4th and 5th range products, seafood and shellfish, etc.
Benefits for your company/product
Maximum profitability from resources such as water, energy, raw materials and time: Since this is not a heat-based technology, energy consumption is reduced. Furthermore, treatment time is considerably reduced in relation to heat treatment in canned product (7-10 min vs 60-90 min for a complete cycle depending on the treatment). Moreover, as this treatment is homogeneous, the product size and shape (preventing over/under treated areas) is irrelevant.
Reduced environmental impact (energy and water consumption).
Improved food sensory properties if compared with food subject to heat treatment for similar life cycle.
Improved preservation of nutritional properties (vitamins, antioxidants, etc.).
Possibility of increasing the shelf-life of lightly processed products and heat-sensitive products such as: foie gras, desalted products, low fat and reduced salt products).
Increased food safety as potentially spoiling microbial flora and food-born pathogens such as E. coli, Listeria and Salmonella are reduced.
Possibility of extending the market or exporting to highly demanding markets thanks to increased Commercial Life of the product.
Possibility of developing new products -additive-free products, functional foods, natural products, reduced salt products, etc.
Improved image before customers (higher product quality, potential microbiological risk reduction, artificial additive reduction).
Savings on aseptic packaging preventing post-treatment contamination which may take place in other processes as the treatment is applied to pre-packed products.
Other applications: Improved raw meat extraction (shellfish) which increases the yield.
No equipment investment is required as there is a company which carries out maquila treatment.
Results
High pressure treatment v. heat treatment, achieves savings:
Water: reduction of water used during the process (pressurised water recirculation inside equipment) thus, reduced water contamination.
Electricity: only necessary energy consumption to increase pressure as it is not used to heat water or the product.
Time: a complete standard high pressure cycle lasts 10 minutes..
Packaging: as this is a packed product treatment, there is no need for further aseptic packaging.
Risks: reduced manual handling.
As well as providing further benefits:
Brand protection: reduction of potentially pathogenic flora in the product.
Opening new markets: New products (functional, "natural") and facilitates export to very demanding markets regarding food safety.
Increased raw flesh removal from shellfish (yield close to 100%, including smaller and most difficult to access parts).
Cutting edge techonology available to any company:
AZTI-Tecnalia works closely with companies in the design, development and definition of optimal high-pressure processing of products.
Once optimal processing is defined, the company APAPROCESSING offers this advanced technology to the food sector, providing the most appropriate maquila service so interested companies can place their high-quality high-pressure treated products on the market without incurring high technology investments.
An increasing number of companies commercialise high pressure treated products worldwide satisfying consumer demands.
This technology knows no "sizes": 52% of companies using this technology are businesses with less than 250 employees (39% with less than 50 employees).
APAPROCESSING: This new company, unique in Spain, aims to address recent increasing need for high pressure treated products, without demanding large equipment investment from companies.