Cancer and nutrition: what you eat can save your life
Cancer treatments can have adverse effects on eating. Many people with cancer experience symptoms such as dysphagia, loss of taste, bad taste in the mouth, metallic taste, mouth sores, vomiting, or loss of appetite at some point. These symptoms affect between 30-85% of patients undergoing cancer treatments, particularly those suffering from gastrointestinal tract cancers (oesophagus, stomach, pancreas, small intestine, colorectal), head and neck, and lung cancer. And the main consequence of this symptomatology is usually malnutrition and, with it, the loss of muscle mass, worsening the prognosis of the sick person.
Itziar Tueros, coordinator of AZTI's Food and Health area, speaks about how diet influences the improvement of the health of cancer patients.
The importance of nutrition in oncological processes
How should the diet of a person diagnosed with cancer be like?
There is no single diet that we can recommend to an oncology patient, since the situation of each of them is unique: it depends on the type of tumor, whether they have toxicity associated with the treatment (such as nausea, vomiting, diarrhea, loss of taste, dry mouth, mouth sores) that affects their food intake or not. Each case must be carefully evaluated, and the appropriate nutritional recommendation provided.
What we do know is that the diet must be healthy and balanced, containing food from all groups in adequate quantities and with the appropriate frequency, in order to obtain all the necessary nutrients and to be able to better tolerate the treatments. It is important to avoid alternative diets, normally very restrictive, which can compromise the nutritional status of patients.
AZTI coordinates ONCOFOOD, a project that seeks new food solutions for cancer patients. What does it consist of?
ONCOFOOD is a European project funded by EIT Food devoted to design and develop innovative foods for cancer patients, considering not only their nutritional requirements but also their sensory alterations, promoting the pleasure of eating and preventing malnutrition.
Different food solutions are being developed to meet cancer patients' nutritional, sensory and textural needs, products such as creams, soups, seasonings….. These solutions should be integrated into their daily life; on the one hand, at home, being easily accessible but also at hospitalsm where ·D printing technology could be used to adapt textures.
The project is all about the patient: a lot of work is being done, both with patients and caregivers, to jointly design the most appropriate solutions to meet their needs. We have held group sessions and they have helped us to identify the greatest difficulties they have when it comes to feeding themselves, allowing us to design products that meet their real needs.
We are currently testing the products we have developed with 100 patients in Spain, Poland and the UK to assess their acceptability. Our intention is to be able to market them from 2022.
AZTI coordinates the project but other European institutions and companies are also part of it: the universities of Reading in the United Kingdom and Warsaw in Poland, and the companies Maspex (Poland) and Natural Machines (Barcelona). Onkologikoa (Donostia) and the AECC (Spanish Association Against Cancer) of Bizkaia are also collaborators.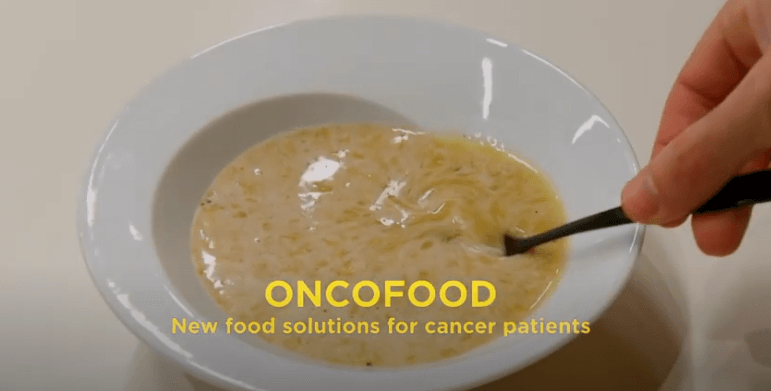 How does research help to find food solutions for patients with diseases such as cancer?
The key lies in the work developed by multidisciplinary teams, including experts from different fields such as food technology, biochemistry, nutrition and dietetics, consumer and sensory analysis… In addition, there needs to be a market orientation, so that research does not remain in a drawer, but is transferred to the market and is therefore accessible to the patient.
How do bioactive compounds affect our health and why should they be considerate?
Bioactive compounds are substances that are present in food, usually in small amounts, but which have a health benefit by influencing our metabolism. Well-known examples are polyphenols, carotenoids…..
Nowadays we can find functional foods or nutritional supplements on the market that incorporate these bioactive compounds in higher concentrations. However, it is important to stress that these bioactive compounds can be found in our regular diet as long as it is varied and includes fruit and vegetables, which are fundamental sources of these compounds.
The benefits of biotechnology in nutrition
How can technology improve our nutritional habits?
The latest advances in biotechnology bring us omics techniques (nutrigenetics, proteomics, metabolomics, lipidomics, microbiota) which, when applied to the field of nutrition, allow us to study in depth how food has an impact on the prevention or evolution of diseases.
Moreover, these techniques are allowing us to provide personalised, more precise nutritional recommendations, adapted to the molecular characteristics of each person, as not all people react in the same way to food. They are a very powerful tool to improve our health by improving our nutritional habits.
You work as a researcher in clinical nutritional studies, characterising molecular profiles of different population groups for the design of personalised nutrition strategies. Who are these strategies for?
Our aim is to define the molecular characteristics of different population groups, using tools such as lipidomics or microbiota… In addition to cancer patients, we work with children or overweighted and/or obese adults, pregnant women, senior citizens and athletes.
Each condition has specific requirements that change as we get older, so the food solutions we develop must be adapted to the metabolic needs of these population groups.
To be able to do this, we collaborate with hospitals and leading doctors, so collaboration between the health and food sectors is key to generating results that have an impact and can be passed on to society.