SEARCULAR
Circular solutions for fishing gears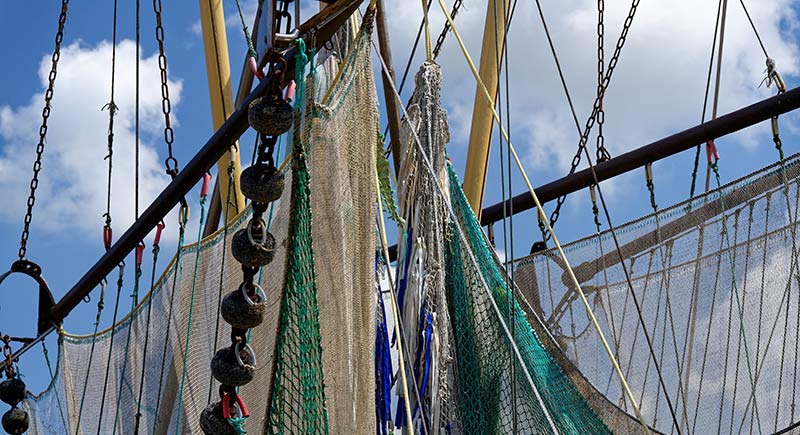 Context
Ecosystem-based fisheries management has become fundamental to guarantee a sustainable exploitation of fisheries. However, fisheries not only become affected by stock availability and its distribution; they also suffer from and contribute to different pollution, such as plastic pollution. Fishing industry is one of the important contributors to marine litter, particularly in the OSPAR and HELCOM regions. It is estimated that 5.7% of all fishing nets, 8.6% of all traps, 29% of all lines, and 40% of deployed dFADs are lost around the world each year.
In the Bay of Biscay half of the floating marine litter collected are fishing related; fishing-related beached litter represents even a higher contribution. Thus, marine litter and microplastics have already been identified as one of the anthropogenic pressures than can affect ecosystems and ecosystem services, that should be addressed in the fisheries management in Europe.
Objectives
SEARCULAR aims at reducing the amount of marine litter and microplastic from the most relevant European fishery contributors (demersal trawlers, demersal seiners, tropical tuna purse seiners) and to introduce circular economy practices within the fishing sector value chain including ports, by fostering behavioural change.
SEARCULAR will achieve this main objective by the following specific objectives:
Reduce the contribution of marine litter and pollution from the target fisheries by 5-10% of marine litter (for recycled dolly ropes and eco-designed JellyFADs), 50% of microplastic per unit of time (for rPA dolly ropes, since we expect that rPA are 2-3 more resistant, therefore lasts twice the time of PE dolly ropes), and by 100% of microplastics (for the bio-seine ropes)).
Reduce the impact of ghost fishing gears on marine fauna and the marine environment using biodegradable and more durable materials (eco-designed JellyFADs).
Reduce the use of fossil fuel in the fishing gear making (15% less)
Create close to market solutions that are validated and approved by stakeholders (4 solutions).
Provide feedback to European legislation, e.g., SUP, PRF Directives (4 policy recommendations).
Promote the behavioural change in the fishing industry towards more responsible and sustainable practices by minimizing the EOL waste and fostering valorisation of fishing gears (at least 1 region engaged).
Solutions
The solutions we propose to eliminate waste generated from fishing gears and circulate materials are:
Circular dolly ropes manufactured with recycled polyamide as an alternative material to traditional dolly ropes.
Circular demersal seine ropes that are made of biodegradable material with higher (3x) resistance to abrasion than conventional PE/PP ropes.
A new model of biodegradable dFAD (JellyFADs) to minimize the impacts from Abandoned, Lost or otherwise Discarded tuna purse seine dFAD on ecosystems.
A port-based solution model that facilitates the recovery and recycling of EOL fishing gears.
Expected impact
The main SEARCULAR's ambition is to provide solutions to help the fishing industry and their value chain reduce their contribution to marine litter and microplastics by fostering the implementation of circular approach in fishing gear making and providing replicable EOL management practices.
SEARCULAR will help the fishing industry have valid alternatives and conscious professionals to act by choosing technologies and practices that protect our seas and oceans; and informing policy-makers of the difficulties and Good practices to consider for future and wider implementation across Europe.
| | |
| --- | --- |
| Partners | AZTI (Coordinator), SINTEF OCEAN, FRAUNHOFER GESELLSCHAFT, ISSF, VTT, MINDFULLY WIRED COMMUNICATIONS,  Saretu Recycling,  +ATLANTIC, GAIKER, UIT – NORGES ARKTISKE UNIVERSITNO, PLASTIC ENERGY, Selstad |
| Lenght | 2023-2026 |
| Funding | European Union |