GES4SEAS
Achieving Good Environmental Status for maintaining ecosystem services, by assessing integrated impacts of cumulated pressures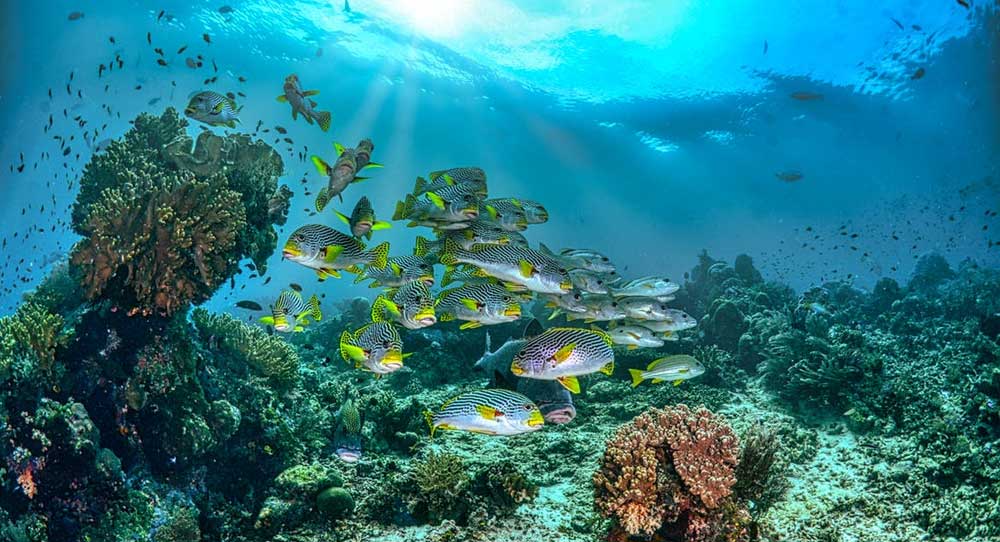 Context
In this framework of change, human activities at sea (e.g. fishing, shipping, extraction of materials, marine constructions, oil and gas exploration) and coastal areas (e.g. agriculture, industry, tourism, etc.) have expanded considerably, leading to an increased level of pressures and subsequent degradation of ocean health and, ultimately, affecting human health.
General objective
GES4SEAS will inform and guide marine governance in minimizing human pressures and their impacts on marine biodiversity and ecosystem functioning, while maintaining the sustainable delivery of ecosystem services.
Innovative Toolbox
This will be achieved through developing an innovative and flexible toolbox, tested, validated, demonstrated and upscaled, in the context of adaptive Ecosystem-Based Management (EBM).
The toolbox will allow competent authorities to assess and predict the effect of multiple stressors (including climate change) and pressures from human activities, at the national, sub-regional, regional and European level.
This will enable authorities to ensure Good Environmental Status (GES), and to support different policies at national, European and global level (e.g. BHD, Biodiversity Strategy, SDGs).
For this purpose stakeholders and the key competent authorities will be integrated in a Practitioner Advisory Board, in co-creating and validating the toolbox and the EBM approach.
Demostrations and testing
The solutions will be tested and demonstrated at 11 Learning Sites (LSs) covering important regions and environments. These LSs have been selected to explore geographical specificities, in the four regional seas, with regards to the impacts of cumulative pressures (including climate change) on the functioning of ecosystems, and their capacity for providing ecosystem services, to ensure better management.

| | |
| --- | --- |
| Partners | AZTI (ES, Coordinator), NORSK INSTITUT FOR VANNFORSKNING (NO), AARHUS UNIVERSITET (DK), THE SECRETARY OF STATE FOR ENVIRONMENT, FOOD AND RURAL AFFAIRS (UK), AGENCIA ESTATAL CONSEJO SUPERIOR DE INVESTIGACIONES CIENTIFICAS (ES), INSTITUTUL NATIONAL DE CERCETARE-DEZVOLTARE MARINA GRIGORE ANTIPA (RO), SUOMEN YMPARISTOKESKUS (FI), JOHANN HEINRICH VON THUENEN-INSTITUT, BUNDESFORSCHUNGSINSTITUT FUER LAENDLICHE RAEUME, WALD UND FISCHEREI (DE), PANEPISTIMIO AIGAIOU (GR), STICHTING WAGENINGEN RESEARCH (NL), HELLENIC CENTRE FOR MARINE RESEARCH (GR), INTERNATIONAL ESTUARINE & COASTAL SPECIALISTS LTD (UK), MARINE INSTITUTE (IE), UNIVERSIDADE DE AVEIRO (PT), TURKIYE BILIMSEL VE TEKNOLOJIK ARASTIRMA KURUMU (TR), ISTITUTO SUPERIORE PER LA PROTEZIONE E LA RICERCA AMBIENTALE (IT), SCITATION – SCIENCE COMMUNICATION LDA (PT), MARILIM GESELLSCHAFT FUR GEWASSERUNTERSUCHUNG MBH (DE), CENTRE NATIONAL DE LA RECHERCHE SCIENTIFIQUE CNRS (FR), FISHERIES AND OCEANS CANADA (CA) |
| More info | |
| Duration | 2022-2026 |
| Funding | European Union, DG Research and Innovation |