Automatic counter for anchovies and small pelagics with artificial vision
Allows counting of anchovies or other species, as well as instantaneous calculation of grain or units per kilogram.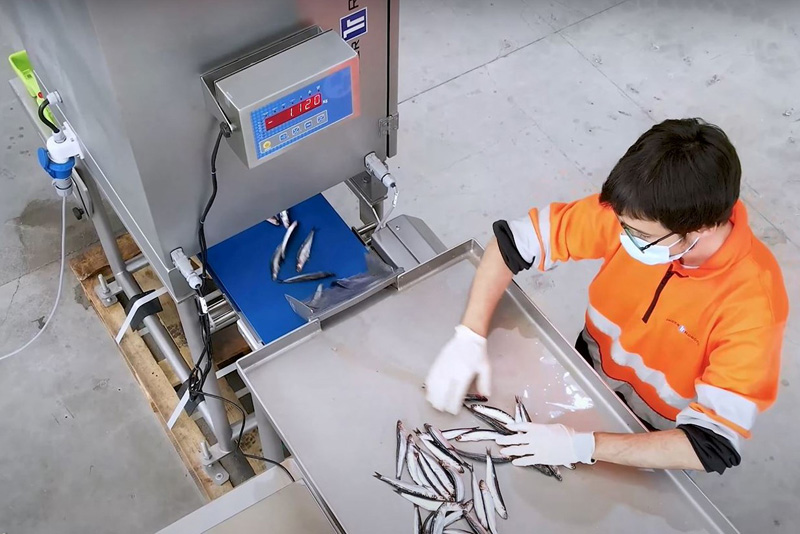 The automatic anchovy counter is a system based on image techniques and artificial intelligence, which is capable of locating and counting the number of fish, calculating the grain or units per kilogram, quickly and automatically.
In this way, the process is optimised and made more efficient, while at the same time obtaining fundamental objective data to define the cost of the product.
Counts up to 108,000 anchovies per day
On average, it has been calculated that this technology can count around 60,000 anchovies/day (up to a maximum of 108,000 anchovies/day), which translates into the counting of one box (350-400 anchovies per box) every two minutes at most. However, it is the feeding of the catches that sets this limitation and not the capacity of the Vision and Artificial Intelligence.
Turnkey project
The automatic counter for anchovies or other species, created jointly by AZTI and Inser Robótica (an expert company in the integration of robotics and automation at the end of the line) is delivered as a turnkey project. The complete system includes:
Integrated equipment installed and in operation:

Modular belt conveyor-feeding system.
Artificial vision cabin with all its elements.
Weighing scale.
PC with the programming of the Artificial Intelligence system.

Historical storage of batches per ship/type.
There are also possible variants of the system:
Software for integration of the data generated in the traceability software of the guild.
Possibility of working with different species.
IOT data capture platform.
Automatic feeding of the system.