BIOcean5D
Understanding Marine Biodiversity for a Sustainable Ocean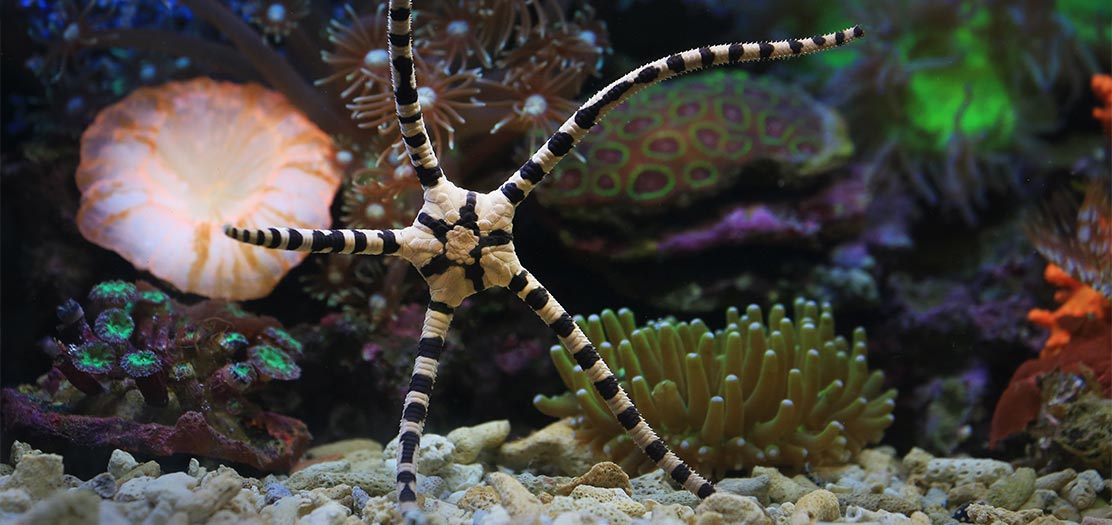 Context
Marine biodiversity sustains ecosystem services for planetary and human health. Recent surveys of marine ecosystems have unveiled our ignorance of the richness and functioning of marine life, which is changing in the Anthropocene at a faster pace than terrestrial life.
Objective
BIOcean5D will create a unique opportunity to bridge molecular/subcelular biology to organismal biology, theoretical ecology and econometrics, and marine complex systems to social sciences, toward the sustainable preservation of our oceans and seas.
A focus is to understand pan-European biodiversity land-to-sea gradients and ecosystem services, including marine exposomes. New data will be harmonized with existing data into an open-access data hub, leveraging international infrastructures, and generating transformative, cross-technologies/cross-scales standard marine biodiversity knowledge at the socioecosystem level.
Knowledge will inform and constrain:
New theories and models of marine biodiversity ecological and evolutionary dynamics and drivers, at both taxonomic and functional scales
A portfolio of novel holistic indicators of marine ecosystem health
Innovative methods and protocols for economic and legal valuations of marine biodiversity and services integrating the dynamical and functional complexity of marine life.
Consortium
BIOcean5D unites major European centers in molecular/cell biology, marine biology, and sequencing from 11 countries, to build a unique suite of technologies, protocols, and models allowing holistic reexploration of marine biodiversity, from viruses to mammals, from genomes to holobionts, across multiple spatial and temporal scales stretching from pre-industrial to today.
| | |
| --- | --- |
| Duration | 2022 – 2026 |
| Partners | EUROPEAN MOLECULAR BIOLOGY LABORATORY (GE), CENTRE NATIONAL DE LA RECHERCHE SCIENTIFIQUE (FR), INSTITUT FRANCAIS DE RECHERCHE POUR L'EXPLOITATION DE LA MER (FR), EUROPEAN MARINE BIOLOGICAL RESOURCE CENTRE – EUROPEAN RESEARCH INFRASTRUCTURE CONSORTIUM (FR), INSTYTUT OCEANOLOGII POLSKIEJ AKADEMII NAUK (PL), ALFRED-WEGENER-INSTITUT HELMHOLTZ-ZENTRUM FUR POLAR- UND MEERESFORSCHUNG (DE), HELMHOLTZ-ZENTRUM FUR UMWELTFORSCHUNG GMBH – UFZ (DE), EIDGENOESSISCHE TECHNISCHE HOCHSCHULE ZUERICH (CH), AZTI SCIENTIFIC AND TECHNOLOGICAL CENTRE (ES), NORCE NORWEGIAN RESEARCH CENTRE AS (NO), STAZIONE ZOOLOGICA ANTON DOHRN (IT), UNIVERSITY OF SOUTHAMPTON (UK), NATIONAL OCEANOGRAPHY CENTRE (UK), UNIVERSITAT WIEN (AT), FONDATION TARA (FR), AGENCIA ESTATAL CONSEJO SUPERIOR DE INVESTIGACIONES CIENTIFICAS (ES), AGENZIA NAZIONALE PER LE NUOVE TECNOLOGIE, L'ENERGIA E LO SVILUPPO ECONOMICO SOSTENIBILE (IT), KOBENHAVNS UNIVERSITET (DK), DANMARKS TEKNISKE UNIVERSITET (DK), CENTRE DE COOPERATION INTERNATIONALE EN RECHERCHE AGRONOMIQUE POUR LEDEVELOPPEMENT – C.I.R.A.D. EPIC (FR), SORBONNE UNIVERSITE (FR), MAX-PLANCK-GESELLSCHAFT ZUR FORDERUNG DER WISSENSCHAFTEN EV (DE),, COMMISSARIAT A L ENERGIE ATOMIQUE ET AUX ENERGIES ALTERNATIVES (FR), UNIVERSITA DEGLI STUDI DI PADOVA (IT), BIOBYTE SOLUTIONS GMBH (DE), VLAAMS INSTITUUT VOOR DE ZEE (BE), GEORG-AUGUST-UNIVERSITAT GOTTINGEN STIFTUNG OFFENTLICHEN RECHTS (DE), UNIVERSITE DE PERPIGNAN (FR), MARINE BIOLOGICAL ASSOCIATION OF THE UNITED KINGDOM (UK) |
| More info | |
| Funding | Horizon Europe |