Tools for the release of vulnerable fauna on freezer tuna vessels
Reduces the impact of the purse seine fishery on the ecosystem while improving safety on board.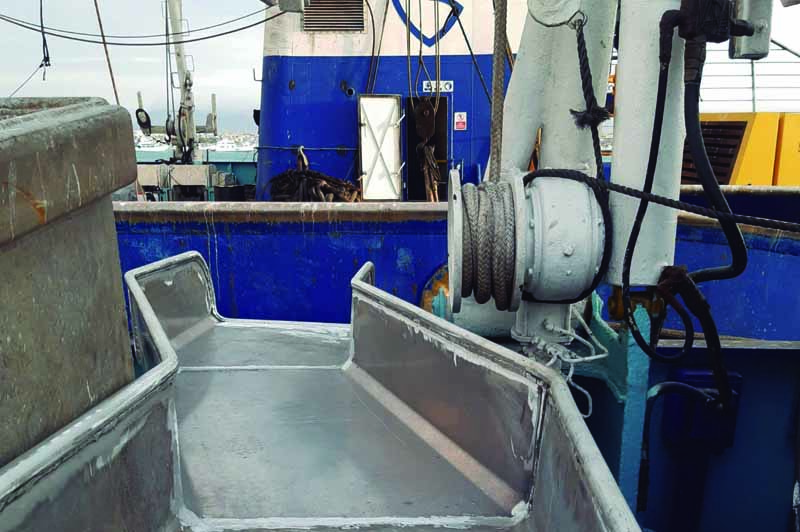 The release tools allow the development of safe release practices on board, and increase survival after the release of sensitive species (sharks, turtles and rays), which interact with purse seine fishing.
At AZTI we work in collaboration with tuna companies operating in the Pacific, Indian and Atlantic oceans and naval technicians with the aim of finding effective and practical solutions to avoid the mortality of species that due to their biological characteristics (slow growth and low reproductive rate) are vulnerable to fishing.
In AZTI we are experts in the evaluation of fishing practices and development and implementation of mitigation measures, in line with the needs of the sector and measures adopted in the Regional Fisheries Bodies.
Thanks to our extensive experience, coupled with different partnerships with the fishing, shipping and research sectors worldwide, we have specialized in helping companies to identify needs for improvement and develop and implement practical solutions on board to advance sustainable fisheries.
Sectors of application
Tuna purse seine fleet, extendable to other types of vessels and fisheries.
Benefits
Increases the survival of animals after release, even large, dangerous and difficult to handle animals, as release times and damages suffered by the animals are reduced.
Improves safety on board and reduces the risk of accidents by reducing physical contact with the animals and handling time.
Its use does not require additional training and allows the development of good habits on board that avoid the mortality of vulnerable species, a characteristic of sustainable fishing.
Installation cost is low, maintenance is minimal and the tools can be adapted to different types of vessels.
Reduces the impact of the purse seine fishery on the ecosystem.
Proven experience
Ramps. The ramps are release devices that are placed between the brailer and the side of the ship and allow to reduce the physical contact between seaman and animal and potential damages induced by the handling, thus increasing the safety on board and the survival of the species.

Grill for stripe release. This device placed on the hopper allows quick stripe release without physical interaction with the hopper, reducing the release time and without hindering the brailing operation.
Hopper with ramp. This is a tray with a hatch located at the mouth of the hopper, where the brailer is unloaded, which allows sharks and other animals on the upper deck to be detected and quickly released by means of the ramp. This avoids contact with the animals and prevents them from falling to the lower deck or fishing park, where they can be difficult to handle and their survival is reduced if there is no gunwale.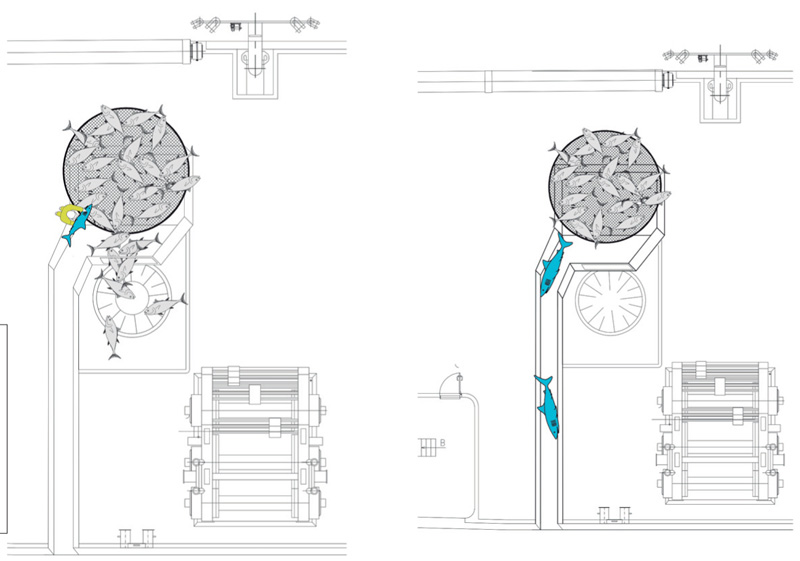 With the support of the European Union through NextGenerationEU funds, within the framework of the Recovery, Transformation and Resilience Plan.