High pressure to produce healthier food with cleaner label
The AZTI technology centre has worked on the development of a technological solution for preserving high-viscosity liquid food products in healthier and more natural conditions.
The first pilot prototype, created within the framework of the European underPRESSURE project, is located at AZTI's facilities, available to companies that wish to test the technology.
Funded by EIT Food, the initiative involves European partners such as Acesur, Fraunhofer, Puratos and Ypsicon.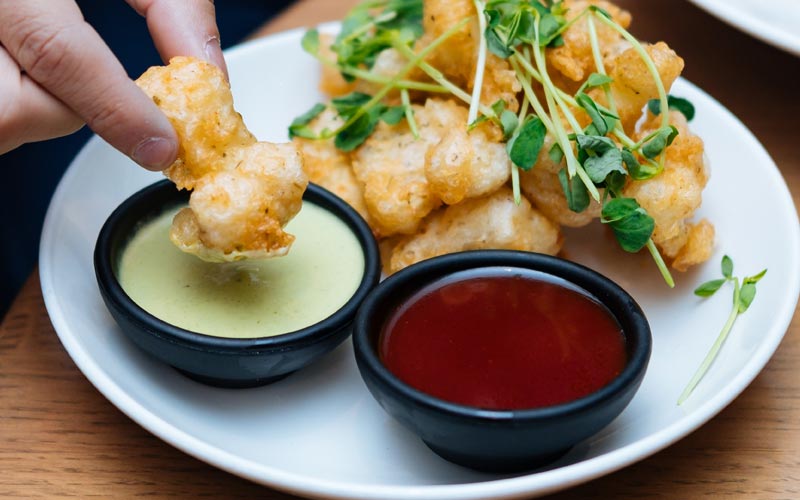 Derio, March 12, 2021.- Dipping French fries in a sauce is one of the greatest pleasures with which to indulge the palate, but it also generates a quick feeling of guilt due to its high caloric content. Sauces, creams, smoothies, some dairy products, or fruit concentrates are 'highly' viscosity liquids that are nowadays sterilised and stabilised by heat treatment or the use of additives, processes that negatively affect the sensory and nutritional properties of these foods.
To reverse this situation and make these products healthier and "cleaner", the Basque technology centre AZTI has worked on the European underPRESSURE project, funded by the European institute EIT Food. The aim of the project has been to develop and test a technological solution to preserve and stabilise 'high' viscosity liquid foods in a single phase and with a healthier and more natural process, thus meeting the increasing demand for foods with fewer additives and cleaner labels.
"The developed solution is based on the application of an ultra-high pressure homogenisation process (UHPH) to a liquid feed that flows through a special valve", explains Eduardo Puértolas, expert in emerging food processing technologies.
The first pilot-scale prototype of the solution, designed and built by project partner Ypsicon (patented process), is located at AZTI´s facilities for its use in research and available to food companies interested in testing the technology.
"To get an idea, the pressure applied is about 10 times higher than that which the Titanic is subjected to at the bottom of the ocean, at a depth of 4,000 meters," adds the AZTI researcher.
In addition to the high pressures, this homogenisation process causes very intense mechanical forces (shear, impact, cavitation, etc.) that greatly assist the process. This new solution contributes to the production of healthier and more natural food, both key aspects for the food of the present and the future and which represent an ambitious challenge for the industry.
The European underPRESSURE project is funded by the European Institute of Food Innovation and Technology of the European Union (EIT Food) and involves a consortium of 5 companies from three different countries (AZTI, Acesur, Fraunhofer IVV, Puratos, and Ypsicon).