Uhinak launches its new format
The congress will be held in a hybrid format, which combines face-to-face participation for the speakers and remote participation for the congress participants
Uhinak will take place on the 4th and 5th of November in Ficoba
(Irun, 10 September 2020). Uhinak, Cross-border Congress on Climate and Coastal Change, is facing its fourth edition under the slogan " Focussed on action against climate emergency". Representatives of the scientific and technical community and the public administration will reflect and debate, from a multidisciplinary perspective, to find out the needs of managers in the face of climate change and see what the scientific community can contribute to solving them.
Unlike previous editions, the climate and coastal change congress will be held in a hybrid format in which the lectures and the opening itself will be held in the Ficoba Auditorium, while the congress participants will participate remotely thanks to the streaming of Uhinak's contents.
In order for the congress participants to be able to access other Uhinak contents such as the posters, a section has been set up on the congress website for this purpose.
With this new approach Uhinak guarantees an optimal way to access the contents of the congress as well as the participation of the congress participants, regardless of the health situation derived from the Covid-19. Additionally, it provides the possibility of reaching remote visitors more easily.
Moreover, Uhinak continues to close its programme of contents. Today the official programme of lectures will be available on the congress website. This edition will be developed around 4 blocks: Climate Emergency: our coastline in 2050; Extreme events and adaptation measures; Blue carbon and climate change mitigation; and Governance and management tools, with a total of 40 lectures planned.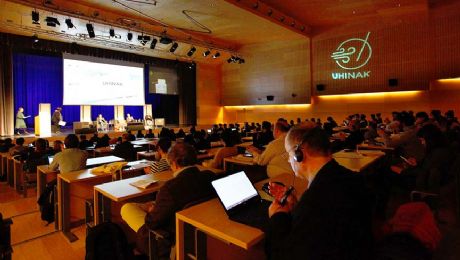 Uhinak, Cross-border Congress on Climate and Coastal Change promoted by Ficoba and the AZTI technology centre, is supported by a Technical Committee made up of representatives from the Basque Government (Ihobe), the Provincial Council of Gipuzkoa, the Community of Agglomerations of the Basque Country, Adegi, CSIC/ESADE/CEAB, Spanish Office of Climate Change, BC3, EUCC Atlantic Center, the Association of Civil Engineers of the Basque Country, Naturklima Foundation, IAHR (International Association for Hydro-Environment Engineering and Research), the Observatory for Sustainability-Fundación Cristina-Enea, the Euroregion New Aquitania-Euskadi-Navarra and AZTI.
Uhinak also has the support of many institutions such as the Department of Environment, Territorial Planning and Housing of the Basque Government through its public company Ihobe, the Provincial Council of Gipuzkoa (Department of Environment), Communauté d'agglomération Pays Basque and the Nouvelle Aquitaine Region.
More information: www.uhinak.com