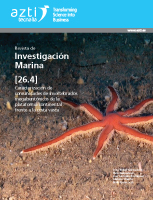 Authors: Joxe Mikel Garmendia, Ibon Galparsoro, Jose Germán Rodríguez, Ainhize  Uriarte, Iñaki Quincoces.
Year: 2019
Content: Aiming the protection and conservation of the marine environment, the European Marine Strategy Framework Directive (Directive 2008/56/EC) requires the implementation of all measures necessary to achieve the good environmental status by 2020. For that, 11 descriptors are identified: (i) biodiversity, (ii) non-native species, (iii) commercial species, (iv) food webs, (v) eutrophication, (vi) seabed integrity, (vii) hydrography, (viii) pollutants, (ix) contaminants in biota, (x) marine litter and (xi) energy and noise. The ITSASTEKA project included four scientific surveys to collect information on the Basque continental shelf with respect to descriptors i, ii, iii, iv, vi, viii and x.
Between 22 and 29 transects were sampled in each of the annual surveys (2010, 2011, 2012 and 2013) to collect demersal fauna, having trawled 6.75-8.22 km2 year-1. Sampled depth range was between 25 and 360 m. Yearly 49-69 taxa of invertebrates were identified. The most frequent and abundant of megabenthic invertebrate species were: the sea anemone Adamsia carciniopados; the sea stars Astropecten irregularis and Marthasterias glacialis; the sea pen Funiculina quadrangularis; the molluscs Galeodea rugosa and Scaphander lignarius; the sea urchin Gracilechinus acutus; the crustaceans Macropodia tenuirostris, Pagurus alatus and Polybius henslowii; the brittle star Ophiura ophiura; and the sea cucumber Parastichopus regalis.
In this study samples corresponding to the megabenthic invertebrates collected on the shelf are analysed. This will contribute to the knowledge of the environmental state of these marine bottoms.
Contact: biblioteca@azti.es
Download: RIM_26_4