Calidad Pascual
Apuesta por la salud y la sostenibilidad
Pascual Big Day 
Pascual Big Day (Strawberry & Cereals / Pascual Big Day Forest fruits & Cereals) is a balanced snack (yoghurt + fruit + cereals) for everyone (young people, adults, families), perfect to eat at any time (breakfast, dessert or snack) and everywhere (because it is a long-life yoghurt).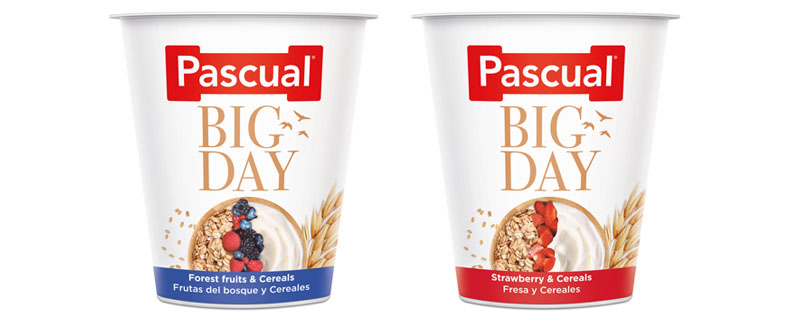 Bifrutas Oatmeal
Bifrutas, an expert in juice + milk, surprises with a new mix and makes the leap to vegetable drinks by presenting its new 100% natural Bifrutas with oat drink to replace skimmed milk. The launch includes 2 of its classic varieties: tropical and Mediterranean.
Pascual Pastor de Aranda buttermilk Brik 1L
Pastor de Aranda is a 100% buttermilk drink. Buttermilk is a dairy product obtained by churning cream to make butter. This drink has a high nutritional value, is a source of calcium and protein, low in fat and also has a unique flavour thanks to its production process.
Bifrutas: 100% natural fruit with no added sugar and no sweeteners
Improved recipe, now with no added sugar and no sweetener.
Pascual Bottle milk 1,5L 100% R-PET
New sustainable bottle 100% made from other bottles, 100% transparent and 100% recyclable so it can have infinite lives.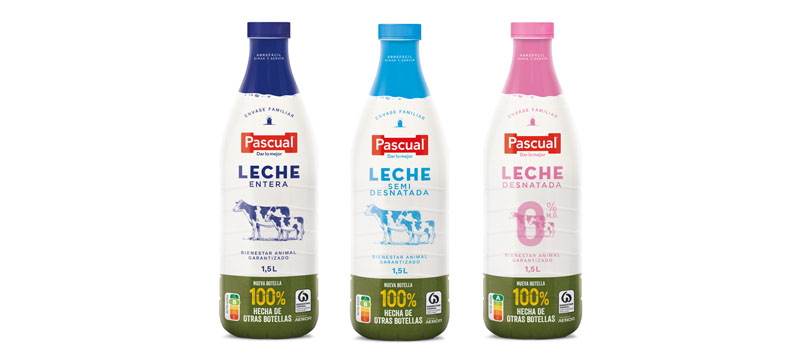 Pascual Big Day: The snack that has it all: Yoghurt + Fruit + Cereals and does not need to be chilled.
Bifrutas Oatmeal:

A unique proposition on the market: with more % juice and more % oat drink than other alternatives and, above all, with 100% natural ingredients, no added sugar, no sweetener and no artificial additives.
All this in a convenient and practical 240ml "on the go" bottle that allows you to enjoy it as and where you want.

Pascual Pastor de Aranda: Launch of buttermilk on the Spanish market, a natural milk drink with high nutritional value at an attractive price at a time of uncertainty among consumers.
Bifrutas: 100% natural fruit with no added sugar and no sweeteners:The only product made with 100% natural ingredients, no added sugar, no sweetener and no artificial additives, but still retains its exceptional taste.
Pascual Bottle milk 1,5L 100% R-PET:

The first 100% R-PET milk bottle without ink on the market
Made from other bottles that can be recycled and turned back into other bottles