Jojitos Natur
This product is part of the Jojitos range. It is a baked snack product (not fried) that includes pulses. It comes in a 90g format with window packaging.
Expansion of the Jojitos range with a new product that in addition to the star ingredients: corn semolina and sunflower oil, pea flour, lentils and salt, is reduced in sodium.
The result is a crunchy and tasty product that contains vitamin E and is a source of fibre and protein.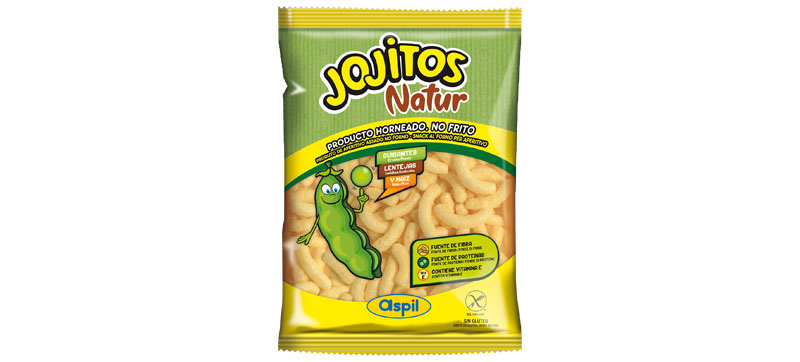 Popitas Xtra Flavour
Microwave popcorn with double flavouring. Each pack contains 2 microwaveable bags with Cheese or Barbecue flavoured popcorn corn, also includes two sachets with seasoning to give it the Xtra touch of flavour.
Freshly popped popcorn, hot, crunchy and with the maximum flavour intensity of your favourite snacks. Until now, the variety of flavours in microwave popcorn was very limited because there are few ingredients or flavourings that can withstand microwave cooking, which is why those that are used provide a lot of smell, but little flavour. Popitas Xtra offers the possibility of giving it that Xtra touch of flavour thanks to its double seasoning: prepare the microwave popcorn with the flavour of your choice, do you want an Xtra touch of flavour? Once cooked, sprinkle the seasoning inside the bag, you decide how much! Close the bag with your hand and shake hard so that the popcorn is well coated.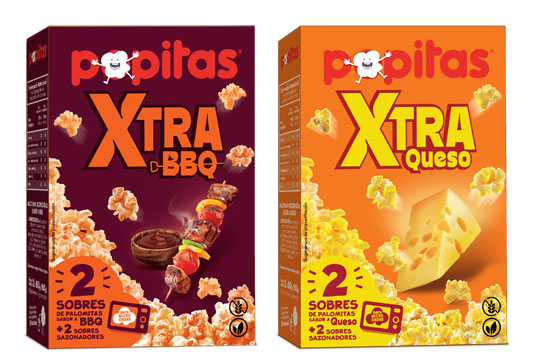 Jojitos Natur
Suitable for all consumers and especially for those who are more aware of a more natural diet.
Includes official certificate from FACE (Spanish Federation of Coeliac Associations).
Popitas Xtra Flavour:
Suitable for Vegans, they are free of Gluten and any other allergens.