Would you like to take advantage of cooperation with young talents from all around the Europe?
The EIT Food RIS Fellowships Action Line will provide you with talented students and graduates with different educational background from top universities and offer them paid, 3-6 months internship in your organization.
EIT Food RIS Fellowships INTERNSHIP
The EIT Food RIS Fellowships Action Line aims providing internship for the best students and graduates come from RIS countries, supporting cross-country mobility to engage in learning-by-doing activities and enable them to develop their competences.
Interns profile
Our aim is to search, attract and matchmake the best MSc students, Ph.D. students and graduates from 28 RIS countries, supporting innovativeness of personnel in the agri-food industry. The exclusive selection process of candidates based on companies needs will be implemented as an open call, using clear and transparent selection criteria.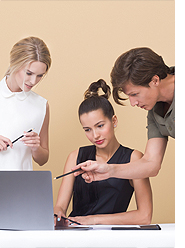 We will have two types of candidates:
RIS Fellowships, talents form higher education and young entrepreneurs.
They will have the opportunity to apply academic knowledge in practical context of work to spur a weave of entrepreneurial innovations in their home countries.
RIS Talents, doctoral students and young postdocs.
They will benefit from lessons learned in their own academic research and will also be encouraged to engage in industrial collaboration or entrepreneurship. They will participate in innovation projects of EIT Food.
Benefits for your company
Precise matching students to the offered internships areas specified by each host organizations
Expanding brand awareness in the RIS countries.
Your company is free of charge, as interns will obtain a scholarship to support his/her expences realted to the participation in the internship.
Flexible selection of the internship mode (on-line, on-site or hybrid), as well as the internship length (3-6 months).
If you are interested, you can READ MORE INFORMATION about the project and FILL THE APPLICATION FORM.


Project Team