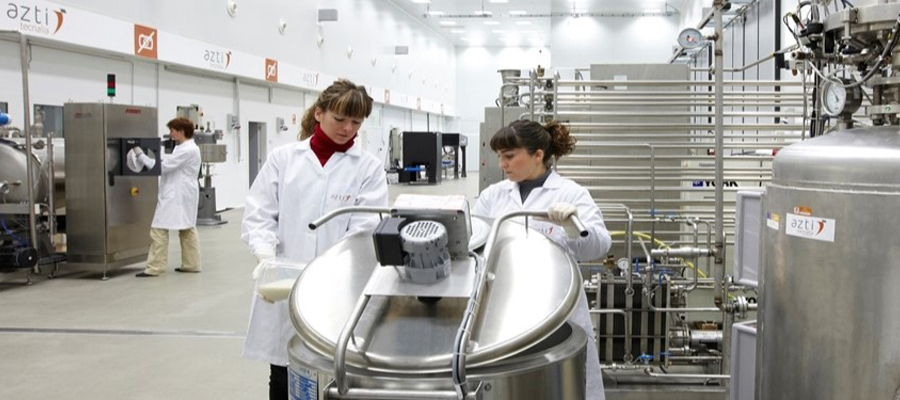 Integrated services to the food industry and the merchandise and equipment manufacturers.
The AZTI pilot plant is the space where possibly the most advanced technologies for improving food products and processes in Europe come together.
In its almost 1,000 square metres, the pilot plant enables the development of new food products and the validation of emerging new technologies on a pre-industrial scale.
Planned along the lines of a hygienic design that simulates the overall production process of the food industry, the equipment and technologies the plant is endowed with enable those companies wanting to evaluate a new product (whether in intermediate, semi-finished, prepared, restructured or analogous foods) or a production line on the market may do so without undertaking big investments.
Tested experience
AZTI brings a tested experience to the field of processes and technologies in the preservation, stabilisation and decontamination of products, as well as the adaptation and harnessing of new technologies in the design of new, semi-finished and finished products, or in the improvement of production systems.
AZTI offers its integrated services to:
the food industry (all sectors), to design, develop and validate new processes and technologies as well as new food products. Likewise, it provides assessment in process automation.
merchandise and equipment manufacturers. It facilitates the means for validating their technologies in the food sector. To do this, it has reserved a space where they can provisionally incorporate new technologies.
Available technologies
Technologies for the integral development of intermediate, semi-elaborated, elaborated, restructured and analogous foods
Food preservation processes and technologies: Storage chambers, freezing, pasteurization, sterilization processes, surface, packaging and chemical processes
Stabilisation processes and technologies: Dehydration, freezing, encapsulation/immobilisation processes.
Decontamination processes and technologies: Reduction of chemical and biological risks
On-line control of products and/or processes
Automation for classification
Revaluation of residues and by-products