Develop your professional career at AZTI
AZTI is looking for people who want an innovative job, focused on the market in a global and international context. We would like to have people like you – people with an inquisitive mind at research and solid experience, but also eager to continue learning.
If you are passionate about creating different scenarios for future projects or generating new opportunities in the field of research, you can have your chance at AZTI.
As part of AZTI, you will be able to develop your research career alongside an internationally renowned team of people in a multidisciplinary and innovative work environment, with ongoing training and interesting social and employment benefits that foster the conciliation of professional, family and personal interests. Welcome to AZTI.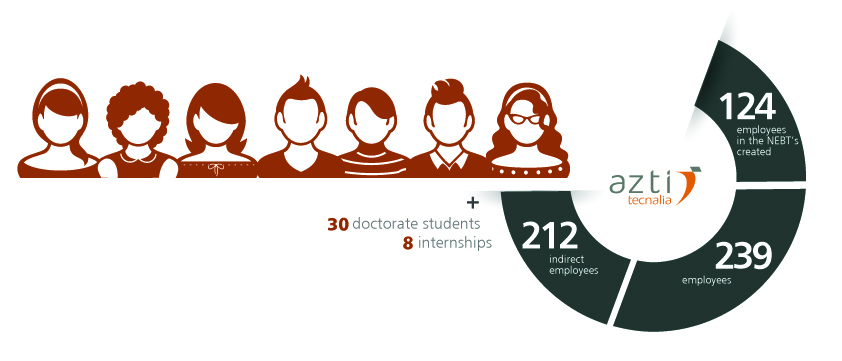 AZTI's vision is to transform science into sustainable development. Our challenges for the forthcoming years are:
ALWAYS GENERATING VALUE. Transform Research into the Real Economy. Maximum integration into market and society reality.
RADICAL DIFFERENTIATED INNOVATIONS. Leading projects generating monetary return and international and global recognition.
BE A BENCHMARK. Returning Innovation to Society, with Partners and Contributors sharing a way of doing and a way of being.
ACHIEVE UNATTAINABLE CHALLENGES. Committed individuals who can do exceptional things together.
ONGOING PROACTIVE CHANGE. A Sustainable and Transforming organisation Model.
What are our values?
The possible of the impossible is measured by the willingness of people and for this reason, the AZTI values are vital to achieving change and progress.
Connected to our clients and environment.
Curiosity and unlimited eagerness to create / innovate / discover.
People and teams with initiative and confidence.
Open and collaborating globally on the network.
Committed to the excellence and sustainability of the organisation in all of its aspects.
What do we offer you?
---
---
We seek professionals in search of new challenges, capable of connecting with clients and forming multidisciplinary work teams. If you feel identified with our challenges, then AZTI is in your future.