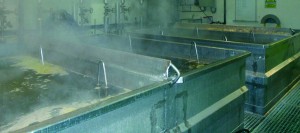 Continuous system to optimise the use of process water and waste discharge
The application of this on-line control system detects and analyses the chemical composition of water through UV-visible spectrometry. The analysis parameters monitored are: total solids, COD, turbidity, colour, nitrates, nitrites, etc. in general and other specific parameters such as oil and fat, etc.
This control system offers the following advantages among others:
Quick response time (measured every minute), very low maintenance without reagents, measurement time stability and versatile installation.
Used in a continuous automated system, it allows smart control of process water and waste discharge separation.
Minimum transfer time: 1 month.
Aplicable sectors
This methodology applies to all food sector companies whether they produce liquid products or use water in their processes or for product and installation cleaning. Dairy, juice, wine, fish canning, preserved fruit and vegetables, etc.
Benefits for your company/product
The application of this technology allows smart water management which facilitates controlling the type of discharge and quantifying contamination to propose flow separation. Multiple advantages:
Enables decision-making to reduce water consumption and reuse process water with low pollution load (for floor cleaning for example), with water savings of 20-45%.
Discharge tax reduction thanks to a reduction of discharge and pollution load of up to 10%. Treatment effort minimisation (WWTP).
Optimisation of Clean In Place (CIP) systems, facilitating loss detection, reduction and recovery.
Reduction of costs associated to analysis.
Greater control in food processes.
Multi-parameter control in aquaculture Welfare model generation.